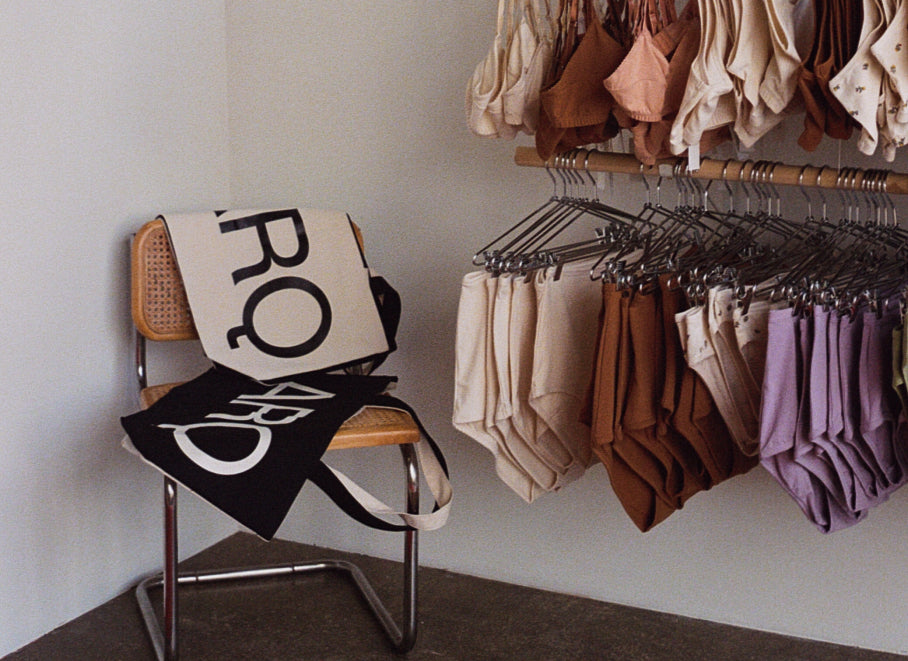 At ARQ, we have a holistically progressive view of how we should operate, especially within our own team and community, but also with lots of transparency, love, and respect for our beloved customers.
We're a small but determined group here in Oregon, obsessing over garment details, thoughtful practices, art/design, pretty spreadsheets, warehouse layouts, organizing your orders, natural fibers, and so much more. Thanks for supporting us so we can keep building something sound and good in our little corner of the fashion industry. We tend to over-communicate, but as always, feel free to email us for even more illumination about our guiding values and processes. We are champion question-answerers. (At least we do our very best!)
Processes

---

Design

Design

Ultimately, we make things we love and hope you will too! The process of designing garments at ARQ starts with one designer, but it takes many brains, many many hands, and sometimes years of diligent collaborative work to take an idea from prototype to production. We make beautiful garments for everyday use with both longevity and human individuality in mind. We know clothes can be different things to different people–we hope to offer garments that make you feel confident and like your most genuine self.

Production

Production

We work closely with a network of U.S., family-run, independent, and transparent factories and suppliers that we love and have grown with over the past several years. We also plan to begin producing very small, special projects locally here in Oregon with the hope of establishing an even more localized supply chain experiment that gathers skilled labor and talent and roots us ever more deeply into our community and ecosystem.

Yes, we are supporters and developers of responsible garment manufacturing and technologies, both old world (if it ain't broke!) and new. We aren't perfect, but we are always learning and exploring!

Materials

Materials

Our garments are made with certified organic natural fibers, recycled fibers, and deadstock materials. Admittedly, it's not the cheapest route, but we think it's a great first step to making this industry and your closet into something we can all feel better about.

All our fabrics, if dyed, are dyed using non-toxic, low-waste, certified organic processes and materials. Waste-reduction is a big topic and goal at ARQ. We are exploring a few initiatives, including gathering cutting room scraps for special projects and connecting with fabric recycling programs. We don't polybag our products, we reuse our many many cardboard boxes before recycling, and we wash our dishes here using chunks of unpackaged locally handmade bar soap (...in case you were curious).

Shipping

Shipping

Your ARQ mailers are coming to you straight from our headquarters in McMinnville, Oregon. We are happy to be able to keep these jobs at home, rather than outsourcing fulfillment. Our amazing in-house team packages your order with care, ships USPS whenever possible in entirely plastic-free, recyclable shipping materials, and does a pretty damn good job of it too, if you ask us.
ARQ Crew

---

Atmosphere

Atmosphere

One of the things that really keeps us going over here is offering true belonging and support to our team and local community, and good, satisfying, creative jobs, with a lot of hard work and a little (a lot) of fun here and there. Establishing benefits like 401(k)s, paid time off, and health care plans for full-time employees are some of the things we find truly exhilarating–maybe even as much as art, music, and clothes…maybe.

From our handbook: "ARQ strives to be a place where everyone can feel valued, heard, safe, and like their contributions matter. We value trust, inclusive community, empowered autonomy, and creativity."

We spent 6+ months (spanning 2021/2022) working with an outstanding local DEI consulting group, Construct the Present, to train and establish equitable processes and policies with frameworks for evolution and longevity within our company. We came away having opened up conversations that will help us view all our decisions through an anti-bias lens and continue to lead with the heart. We strive to be an actively anti-racist, anti-bias group and to strongly intersect that ethos with our goal of always prioritizing the health of people and the planet as we make decisions. We are also members of Partners in Diversity, a Portland-area non-profit that provides workshops, education, resources, and networks to forward their vision of a "thriving, diverse, and welcoming community in which all people can work and live".

For us, all of the above is essential to making your essentials. We love that we are able to share the results of our hard work with our larger community.

Meet The Team

Meet The Team

Abigail,
Owner/Designer

Sarah,
Account & Personnel Manager

Nicole,
Order Fulfillment Lead

Nathaly,
Customer Experience Coordinator

Kristina,
Fulfillment Operations Manager
Giving

We built charitable partnerships and giving into our business very early on, knowing that it could be challenging to go back and implement once it finally felt financially comfortable to do so. Through our non-profit product offerings and various initiatives, we support organizations working to empower refugees, those affected by systemic racism, those affected by food and housing insecurity, those who have been previously incarcerated, and those working to prevent environmental devastation. We feel especially called to impact those in our immediate physical community, and we thank you for being a part of this work.

Future

At ARQ, we are dreaming pretty big for such a small crew; little by little, with your support, we are taking steps towards an even more local, more sustainable process. One effort we are actively involved in is getting to a point where we can use locally grown flax for the creation of our own entirely regionally manufactured, soil-to-soil, flax linen line! It's still a ways off (these things take time), but we could sure use all the good energy you could send our way. We recently funded the rehabilitation of the only (only known?) remaining flax puller in the United States! Of course, as serendipity would have it, the flax puller happened to be in an agricultural museum in our town of McMinnville, Oregon.

Oh, also, we bought a 100-year-old defunct factory right at the edge of our growing urban renewal district. It's going to take some time and a lot of work, but someday (soon, we hope) it will house our offices, fulfillment, photo studio, events, and creative spaces for projects that we've been dying (dyeing?) to get into.

Stay tuned, we're so happy you're here!

Colophon

Website Design by Actual Source
Website Development by Kebin Maharjan and Mitchell Barton
Photography by Marissa Boone, Abigail Quist, and Alexandra Gomez
Typeface: Folio, designed by Konrad Bauer and Walter Baum, 1957